OMG Sexy Asian Babe – DJ Sophia Hustle-Lin
Posted on Wednesday 18 Mar 2009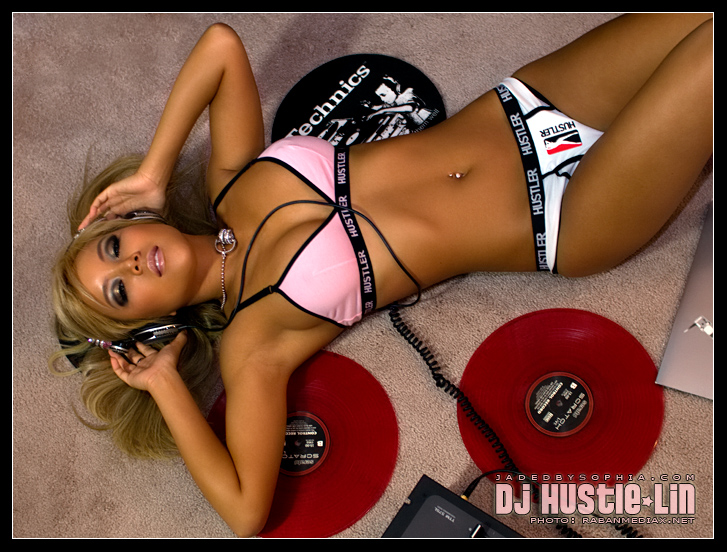 Sophia Lin aka DJ Hustle-Lin.  Model, DeeJay, Actress, Performing Artist. Born in Washington D.C. and raised in Silver springs and Potomac, Maryland and later Kansas City. Sophia currently resides in Los Angeles to further her acting and performing career.
In her teenage years, Sophia started modeling by working at bikini shows, hair shows, fashion shows at malls, special event and car shows. She was then introduced into DJ'ing by DJ Shaunflo, as she would be his back-up and relief DJ at parties and clubs. "Since I love music just as much that I thought it would be pretty hot to have a girl DJ!," Sophia smiles. Her original DJ name was 'DJ Sofiyah,' as in hot like fiyah!" Later on, priorities changed and Sophia concentrated on working and school. She finished school and attained her real estate license with Keller Williams.
But then Sophia realized her old passion to DJ. "So I said wait, I know how to DJ and I love it!" So she revived her DJ career and decided that she needed to change her name up, "…. Kinda like how many times Prince and P.Diddy did! So I chose 'DJ Hustle-Lin' because it had my last name 'Lin' and 'Hustle' (like the movie Hustle & Flow)." As DJ Hustle-Lin, Sophia rocked the crowds with her hot dance mixes. Promoters hired her to DJ all over from Seattle to Miami up to Canada and down to Las Vegas at many clubs and corporate events.
At the same time Sophia also boosted her modeling and performing career with many photo shoots for various publications and features, and through working as a spokes model and hostess at various events around the US. "It's fun and exhausting at the same time. But it's all worth it! Networking, traveling, meeting new people, being in the spotlight and putting a smile on peoples faces….that's what its all about!" Sophia quickly found success in her acting career – within a few months she landed two feature movie roles!
With the success there have been obstacles and hardships along the way. "Life hasn't been the easiest thing for me. I've been through everything a fifty
year old has! except children!" Sophia laughs. Moving to Los Angeles was a struggle as she had only a few days find a new home. In the past year, Sophia went through surgery to remove tumors and finally release her from the pain she had been coping with for some time. "So I appreciate life more than many people do."
What's next for Sophia? "As long as I'm taking ten steps forward and no steps backwards. That is all that matters! I'm always thinking ahead, I'm here for the long run!" Look for Sophia this year on the big screen and watch out for her upcoming album release. "I'm still on the pursuit to happYness!"
Beauty and talent.
Smart and sexy.
Feel the music.
Feel the beat.
It's Sophia DJ Hustle-Lin.
More Sophia Lin / DJ Hustle Lin @ AngelsnBabes